PUNX PIC-A-NICS IN THE UK 2003
This page is for all you lovelies who are putting on yer own Punx Picnic (or similar DIY style underground event)... Just gimme the details; venue, date, time, doorprice, bands, etc. and I'll stick it all down for all to see!

BRIDGWATER PUNX PICNIC SAT 26 APRIL
Meet at 1pm in Blake Gardens with picnic stuff and bin bags (no littering please - afterall bridgwater is such a beautiful place....ahem).You know- picnics-cider, crisps and cider!
Once all that meeryment has subsided, your main course for the day is an 8 band punk rock bill at the Back Room of the Rock Gardens, featuring:
The Big, Valdez,Waste Disposal Unit, Petula's 4 favourite things, Neck79, 16 stone mullet, Kolala Attack! and Bad Blood
All this for 4 Pounds (or 3 Pounds concs)-the whole night is gonna run from 6pm till 2am, with punk-ass dj's playing between and after the bands, apparently.


DERBY PUNX PICNIC 2003
FRIDAY MAY 2ND
The Dead Pets
In The Sh*t
3CR
The Jipwits
4 Pounds (1ST BAND ON AROUND 8PM)

SATURDAY MAY 3RD
Icons of Filth
Striknien DC
Poundaflesh
Skint
Keith Peace
The Ungovernable
5 Pounds (1ST BAND ON AROUND 5/6PM)

SUNDAY MAY 4TH
UK Subs
(+ SUPPORT T.B.C)
6 Pounds
All gigs @ The Victoria Inn, Midland Place, Derby.


HACKNEY PUNX PICNIC 2003

FRIDAY 30 MAY
Airbomb
Poundaflesh
Dislocated Youth
The Ulcers
The Poison Club (52A Dalston Lane, Hackney)
4 Pounds 9pm - 1am

SATURDAY 31 MAY

PICNIC @ LONDON FIELDS Sat PM

Deadline
Red Flag 77
Blowjobs
Active Slaughter
The Poison Club 4 Pounds 9pm - 1am

SUNDAY 1 JUNE
Demob
Filaments
Thought Crime
Jakal
The Swan, 363 High Road, Tottenham
4 Pounds 8PM Start
All gigs at the Lord Cecil, 42 Lower Clapton Road, Hackney, London E5

MANCHESTER PUNX PICNIC
FRI 6 JUNE
Bickle's Cab
The Kirkz
Anarchy Spanky
3CR
@ The Star & Garter, Fairfield Street

SAT 7 JUNE
Pounaflesh
Rotunda
Indicator UK
Rev.Porl
Harakiri Karaoke
Shotgun Solution (tbc)
Scum (tbc)
@The Red House

LEEDS/BRADFORD PUNX PICNIC
Thurs 17th-Sun 20th July

THURS 17th JULY 8pm
@1 IN 12 CLUB, ALBION ST, BRADFORD
WHAT HAPPENS NEXT? (usa)
ARMY OF FLYING ROBOTS
FLAGS ALL BURN
THE HORROR
JINN

FRIDAY 18th JULY, 6pm
@1 IN 12 CLUB
OI POLLOI
SWELLBELLYS
EXTINCTION OF MANKIND
DISRUPTIVE ELEMENT
FREAKS UNION
F**KHATEPROPAGANDA

SATURDAY 19th JULY, 5pm
@THE PRIMROSE, MEANWOOD ROAD, LEEDS
ZOUNDS
NO CHOICE
PILGER
CONTEMPT
RUNNIN' RIOT
H8 TARGET
CHARLIE DON'T SURF
BICKLES CAB

SUNDAY 20th JULY, 5pm
@THE PRIMROSE
ONE CAR PILE UP
BELLIGERENT DECLARATION
HOMEBREW
INDICATOR
CAPITALIST DOWNFALL
BROKEN ACCESS
MR NIPPLES

Thursday is 4pounds members /5pounds non-members
Friday & Saturday are 5pounds, Sunday is 4pounds

Friday is a benefit for the 1in12 Club
Saturday and Sunday are benefits for Rape Crisis

Friday, Saturday & Sunday brought to you by PUNKTURED
For more info, directions etc, ring 07949 856 589, or write to:
Punktured, c/o 145-149 Cardigan Road, Leeds. LS6 1LJ
or e-mail headwound@punktured.fsnet.co.uk

Also, clashing terribly is...
THE SOUTH LONDON PUNX PICNIC 2003
SATURDAY 19th JULY
GIG- Oi Polloi (Scottish anarcho-pogo'ers), the Ulcers (proper S. London garage punk), Gertrude (all female avante-punk), Strike of 59 (local
ska-core), Short Bus Window Lickers @ the Brockwell Park Tavern, 133 Dulwich Road (across the road from the park!) starts at 8pm-due to closing time!
PUNX PICNIC in Brockwell Park (Herne Hill rail station or Brixton tube and a bit of a walk down Railton or Effra Rd) bring food, drink, a
football, yer mates, yer arse etc. Look for 'da punx' amidst the Country Fair madness! (If it p*sses down with rain, go to the Windmill pub)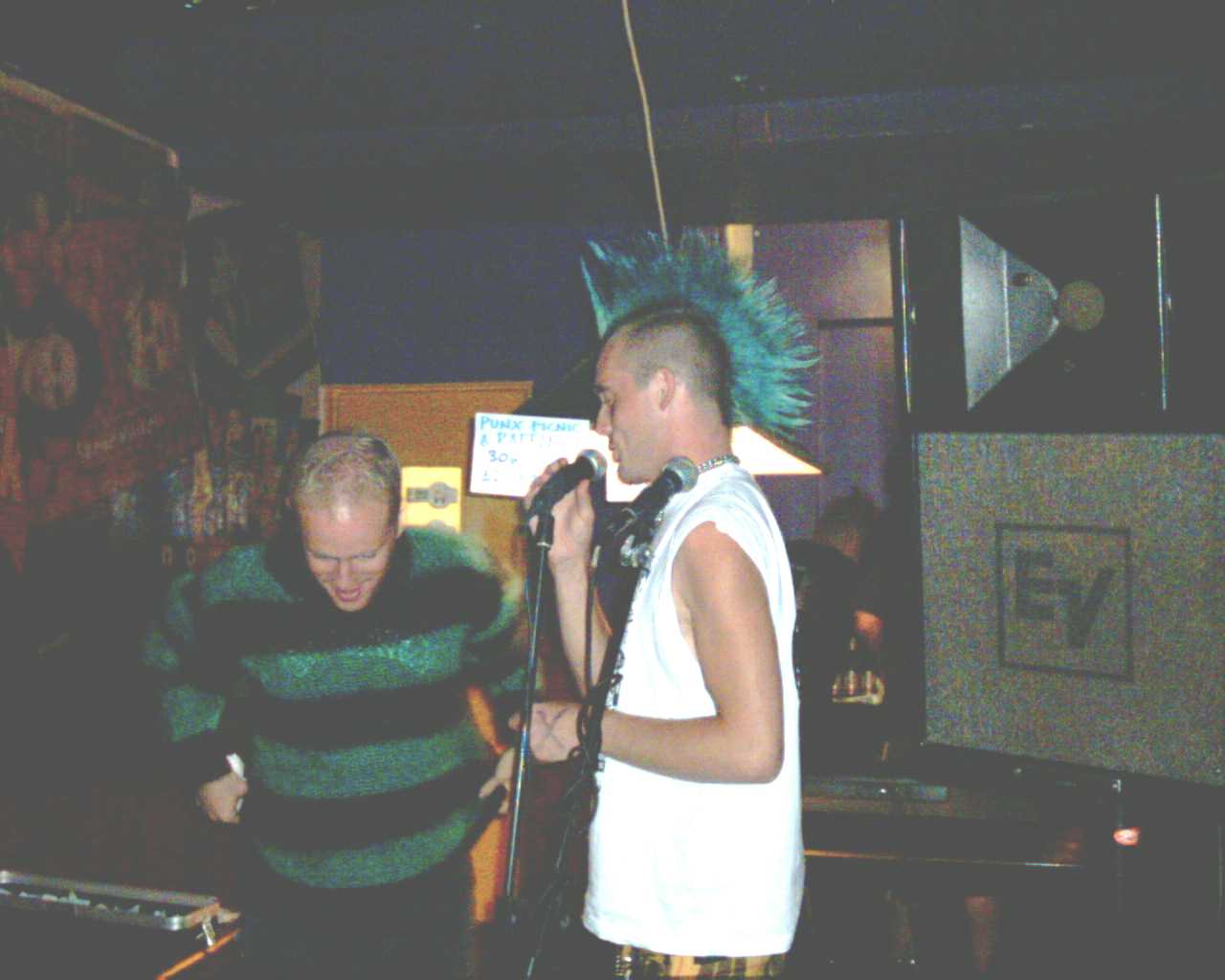 Hope to see you at a picnic soon!
Likesay, send in any info you may feel oughta be included - see contacts page for guestbook and e-mail.